ET IN ARCADIA EGO?
Ancient Mysteries and Secret Societies
EN FRANÇAIS
TAOXAOA UEI LA JAZJEJHVZ YCA UVCIIHZ JAZHAOI XEOLAZJ SE GSAB, UEG LGSFFFH UEO SE GOVHF AJ GA GRAPES LA LHAC M'EGRAPA GA LEAWVZ LA XEOLHAZ E WHLH UVWWAI TSACAI.
ENGLISH
IRAURAOLAII ZV JAWUJEJHVZ JREJ UVCIIHZ JAZHAOI RVSL JRA QAD; UAEGA LGSFFFH TD JRA GOVII EZL JRHI RVOIA VB XVL H GVWUSAJA (VO LAIJOVD) JRHI LEAWVZ VB JRA XCEOLHEZ EJ ZVVZ TSCA EUUSAI.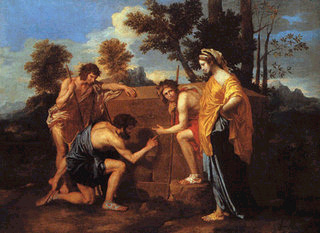 A Mystery Wrapped in an Enigma
*Puzzles 1&2 use the same cipher code*
1. French Painter's Name: IKUZHTVJ OHFJJKI
2. Name of Painting in French: TAJ MAGDAGJ X'VGUVXKA
2. Name of Painting in English: QZA JZAOOZAGXJ HR VGUVXKV
*Puzzles 3-6 use the same cipher code.*
3. Latin Inscription within Painting in Puzzle #2:

"ZO TU FXIFNTF ZYS"
4. English Translation of Inscription in Puzzle #3:

"FUN TU FXIFNTF T"
5. Latin anagram of Puzzle #3:

"T OZYS FXIFUF NZT."
6. English Translation of Anagram in Puzzle #5:

"QZYSUZ! T ISUIZFK OWZ AZIXZOA SJ YSN."
What is the real meaning of Et in Arcadia Ego? The following is an excerpt* from the most learned discourse I've read on the subject. It comes from an article entitled The real meaning of Et in Arcadia Ego by Tracy Twyman who is the author of The Merovingian Mythos, and the creator and editor of Dagobert's Revenge Magazine.
"Et in Arcadia Ego..." - These words first appeared, to my knowledge, in a painting by Il Guercino (c.1618) of the same name. Throughout the Renaissance, this phrase was used as a sort of code word for "the underground stream", an invisible college of kindred souls who secretly shared their esoteric knowledge with one another, passing it around Europe via a network of secret societies and mystery schools, often utilizing its arcane symbolism in works of art and literature. Such symbolism shows up, for instance, in the works of René d'Anjou, Giordano Bruno, Leonardo da Vinci, Nicholas Poussin, and many others. ….
The phrase "Et in Arcadia Ego" is normally translated from the Latin, "And I am in Arcadia", or "I am even in Arcadia." The "I" is supposed to be death, and since Arcadia is the Greek conception of Paradise, it is presumed to mean that death is everywhere, even in Paradise. The reason for this is that in the art and literature of the period in which the phrase "Et in Arcadia Ego" was used or referenced in some way, it was almost always associated with a tomb of some sort, and usually with a skull as well. For example, a skull can be found in Guercino's Et in Arcadia Ego bearing a mysterious hole on its left side.(1) The phrase was inscribed, in code, on the gravestone of Marie de Blanchefort, whose grave at the church at Rennes-le-Chateau Berenger Sauniere is believed to have successfully plundered of some treasure. Nicholas Poussin, who's painting The Shepherds of Arcadia is so central to the mystery of Rennes-le-Chateau, … depicted in that painting a group of shepherds pointing to a tomb that was inscribed with the phrase "Et in Arcadia Ego." This was believed by Henry Lincoln to depict a tomb that, until recently, still existed in the region of Rennes-le-Chateau. But the authors of The Tomb of God (Richard Andrews and Paul Schellenberger) think that the real tomb which Poussin was alluding to is not the one that Henry Lincoln found, but one that they say is buried between the twin peaks of nearby Mt. Cardou, which they believe to be the tomb of the one and only Jesus Christ. Their interpretation of the word "Arcadia" - specifically in the context of that phrase - is reached by breaking the word down phonetically, and then translating, not just the letters, but the sounds from the Latin, thereby arriving at the result, "the tomb of God."
* excerpted with permission from author